Count me in...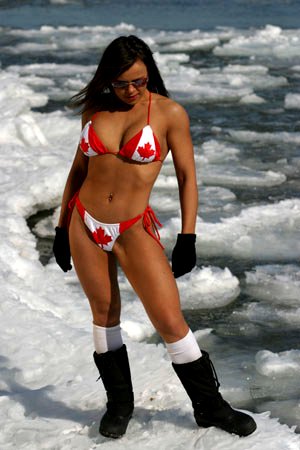 Is it time for the
NHL
at loooong last to return at least a couple of clubs to the games' ancestral Canadian home where love and support for the sport rules the land ?
Alan Adams writing for FOXSports.com thinks so
and I tend to agree BUT I don't agree with which clubs he considers movable.
...the NHL should play to its strengths and move a couple of franchises north of the border. The NHL has nothing to lose and much to gain by going back to its roots.
Consider the following:

The Calgary Flames had 19,289 fans for their first preseason game last weekend. The Flames packed the Saddledome tighter than a sardine can on same day they depleted their stock of single seats for their 42 home regular-season games.

The very next day in Winnipeg, the 15,000-plus seat MTS Centre was jammed full for an exhibition game between the Phoenix Coyotes (formerly the Winnipeg Jets) and Edmonton Oilers. The Jets moved to Phoenix in 1996, ending 17 years of NHL hockey in Winnipeg. There have been three other exhibition games in the city, but this was the first time the Coyotes have played in Winnipeg.

The Toronto Maple Leafs players were in the midst of having their pre-camp medicals when the airwaves in the unofficial hockey capital of the world were buzzing with speculation whether the blue and white had what it takes to make the Stanley Cup playoffs next April.

It's the same story in Vancouver, Ottawa and Montreal.

It's hockey, hockey, hockey, all the time.

Raise your hand if you can guess which sport leads off the highlight package on the sports channels on televisions across the country night after night.

Not baseball. Not football.

Sports fans in Canada just aren't paying as much attention to NCAA football, MLB's playoff races, the NFL, golf, you name it, as they are paying to hockey.

And the NHL won't be on the radar screens in the United States until the Super Bowl is over. League executives will argue otherwise, but...

That's why the NHL has to look north and the sooner the better.

(my emphasis)
That being the case, the question now becomes:
Which clubs do you move and where do you move them to?
As hard as this may be for US hockey fans in some of these markets that might move to accept, it's an issue Canada (the home of Hockey) has had to deal with for quite some time now.
I for one would love to see a couple teams make their way back home to the land of Hockey. I mean, come on, it is their game after all. It belongs there.
As God intended.
Winnipeg and Hamilton sound like good candidates at the moment to me. Although I'm real partial to the idea of Quebec getting a team back.