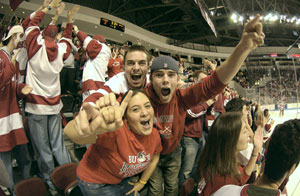 OR...How I learned to stop worrying and love the
...
Shootout.
Think about that shootout game between the Rangers and Capitals a few weeks ago. Did you see Marek Malik's unbelievable goal to win it? Talk about F-U-N! Here's a 6-foot-6 defenseman, who up until that point hadn't really shown an iota of offensive skill in the NHL, and he scores a highlight reel goal that I'm pretty sure brought Jagr to climax. Seriously, it was so good that, for about 15 minutes, the sports talk stations in New York actually stopped discussing the Mets' pitching rotation to talk about hockey.

Never mind the fact that the 15 rounds of shootout could have instead been a prolonged 4-on-4 sudden death overtime under goal-friendly "new" NHL rules. And never mind that Malik's goal is no different that a jaw-dropping move in the NBA's slam dunk exhibition: an athletic feat that could never be repeated in an actual competition because it's flashy sideshow garbage.

It was super duper candy-coated F-U-N!
Straight out of Kazakhstan
...
a new shootout star is born.
OTHER PUCK NEWS:
Police Blotter Hockey:
Bavis and Head-Butt
and finally...
YOU KNOW YOUR A HOCKEY FAN IF...
You went into a bank because it advertised "Free Checking"....and walked out disappointed.